When it comes to employee benefits, where does your company stand? Paid vacation? Tuition reimbursement? Medical insurance?  Unlimited vacation days? … wait, what?
That's right, unlimited vacation days. This perk has become more common in today's workplaces. Company's like Red Frog Events have quite the attractive benefits package, which includes unlimited vacation days along with health/dental/vision insurance & a 401k plan where they match up to 10% of salary. It doesn't stop there. They also offer $100/ month in cell phone reimbursement, one work from home day per week, sabbatical, a trip abroad, a birthday massage, free food and drinks, and much much more.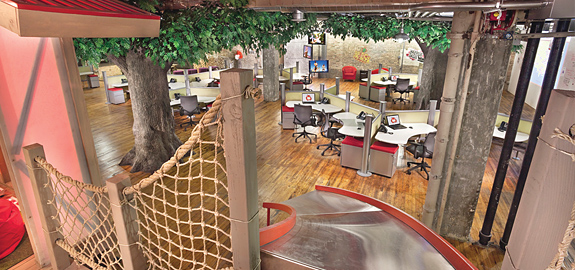 This isn't even what caught our attention. Their 17,000-square-foot office is home to computers, desks, a tree house complete with zipline, a rock climbing wall, and a conference table made of 50,000 Legos.
A fun and creative work environment has surely has its benefits.
Easier Recruiting. Simply, the more you have to offer you'll start attracting top talent from even the most prestigious universities and company's. Young innovative thinkers thrive for a creative work environment to express their talents.
Mutual Appreciation. When employers invest in the office space it let's employees know that they care that their work environment is comfortable, relaxing, and stimulating.
Less Stress & More Happiness. Creative spaces encourage innovation, increase productivity, and inspire better performance.
Free PR. Just like you're reading about it here. Your company will draw more attention and may land yourself the spot of "Best Company's to Work For" in your city.
Enhanced Creativity. A work environment that is conducive to growth through the synergy between creative thinkers in a creative environment.